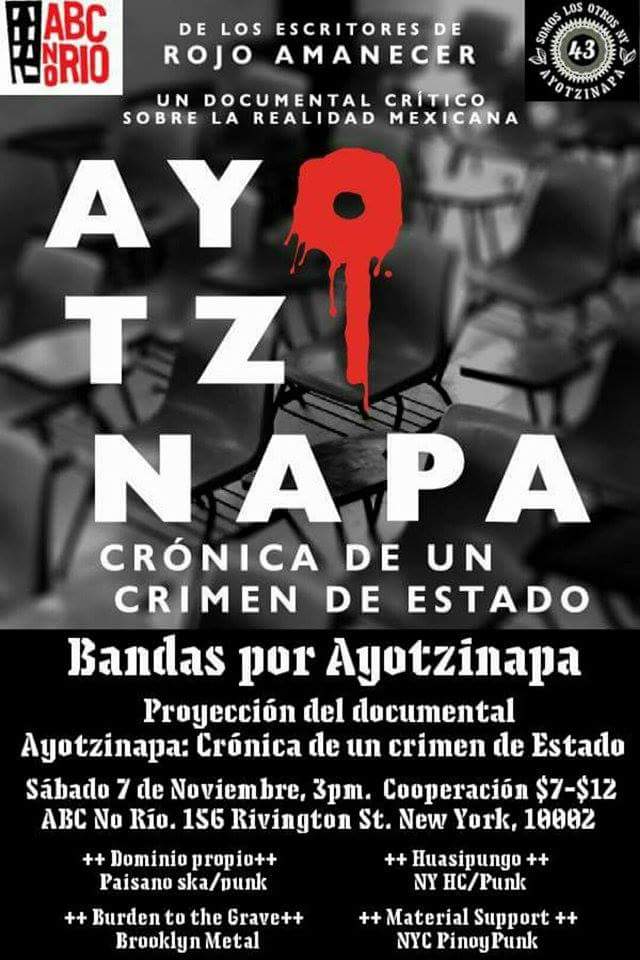 ABC NO RIO HARDCORE PUNK MATINEE
Presents:
A benefit for Somos Los Otros NY
Screening of the documentary:
"Ayotzinapa: Chronicle of a Crime of State". Film that chronicles the slaughter of Iguala of September 26th and 27th 2014, in which 43 students of the Ayotzinapa school were disappeared in an action that involves the police forces, drug traffickers and the military.
Presentación del documental:
"Ayotzinapa: Crónica de un Crimen de Estado". Largometraje documental que narra la masacre de Iguala del 26 y 27 se Septiembre de 2014, en la que 43 estudiantes de la normal de Ayotzinapa fueron desaparecidos en una acción en la que tuvieron que ver las fuerzas policíacas, el narco y el ejército.
TRAILER: https://www.youtube.com/watch?v=8Qli9Z38Cr8
+++
BANDS:
HUASIPUNGO [Political Latino NYHC]
MATERIAL SUPPORT [ NYC Pinoy Punk]
DOMINIO PROPIO [Brooklyn Punk/ska formerly Paisaneska]
BURDEN TO THE GRAVE [Brooklyn metal]
Doors @ 3pm (2pm to volunteer)
ALL AGES – All Shows $7-$12 (Sliding Scale)
Event page: facebook.com/events/1652356391710396

ABC No Rio
156 Rivington Street, NYC
(F to Delancey J to Essex)
No Drugs/Alcohol in the space = No Cops in the space
No Racism * No Sexism * No Homophobia