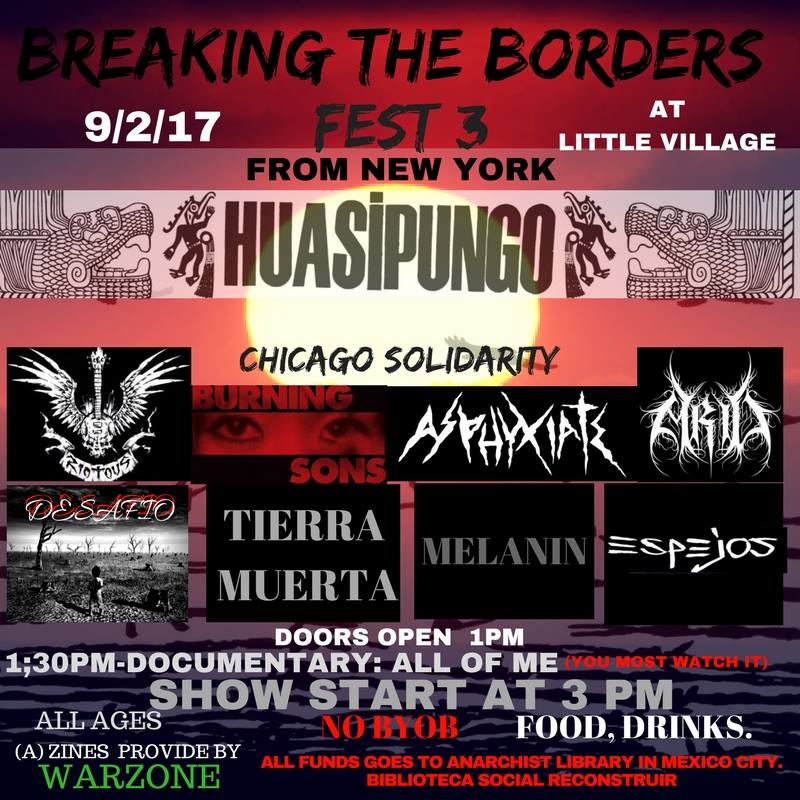 BREAKING THE BORDERS FEST 3
September 2nd 2017
FB event: https://www.facebook.com/events/1875067069411510
– ADDRESS WILL BE POST ON SEPTEMBER 2nd
3rd annual benefit festival for the Anarchist Library in Mexico city, Biblioteca Social Reconstruir.
Doors at 1:00 PM
1:30PM –  DOCUMENTARY: ALL OF ME
An intimate insight into the Patronas, a group of Mexican women who, every day since 1995, make food and toss it -still warm- to the migrants who travel atop the freight train The Beast as it makes it way to the U.S. This documentary is a personal diary that draws a border between the life they were given, and the life they chose. A brave and remarkable example of love and solidarity that contrasts with the violence of one of the cruelest stretches in the world for undocumented travelers.
Show starts at 3:00 PM
Bands:
Huasipungo (New York City)
Riotous
Arid
Desafió
Los espejos
Melanin
Burning sons
Aspyxhiate
Tierra muerta
TABLING by WARZONE
Food + Drinks (First 20 people get a free drink)
Save
Save