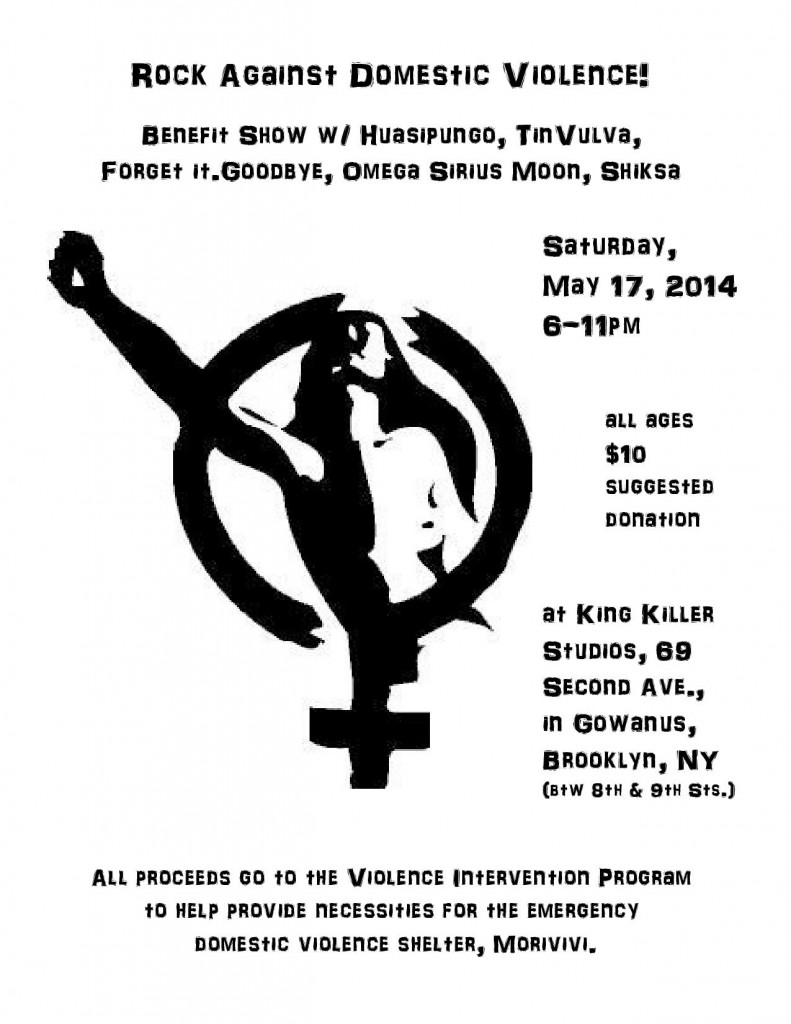 MAY 17th 2014
6:PM – $10 – ALL AGES
King Killer Studios – 69 2nd Avenue, Brooklyn, NY 11215Event page: https://www.facebook.com/events/1469861306580198/
Rock Against Domestic Violence! All proceeds go to the Violence Intervention Program, Inc (VIP) to benefit the women's shelter, Morivivi.
Each year approximately four million women are battered in the United States and these are only the reported cases. In 1988, the Violence Intervention Program (VIP) opened the Morivivi Program, the first bilingual/bicultural (Spanish/English) safe dwelling in New York City. Today VIP has eight safe dwellings (apartment sites) serving battered women and their children who need shelter.
Drop by for a killer line-up of rock and rollers and support a good cause!
TinVulva (http://tinvulva.bandcamp.com/)
Huasipungo (http://huasipungo.com/)
Omega Sirius Moon (http://omegasiriusmoon.com/)
Shiksa (http://reverbnation.com/shiksaband)
Forget It.Goodbye (http://forgetitgoodbye.bandcamp.com/)
"Sometimes we are blessed with being able to choose the time, and the arena, and the manner of our revolution, but more usually we must do battle where we are standing." – Audre Lorde