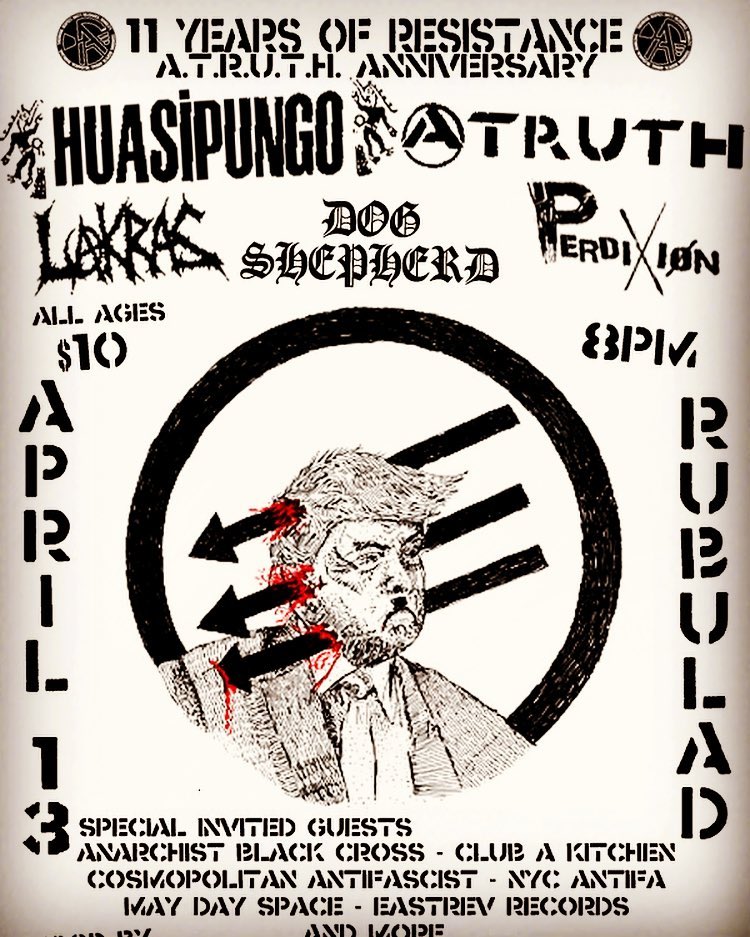 11 YEARS OF RESISTANCE /// 11 AñOS DE RESISTENCIA
(A)TRUTH anniversary /// aniversario de (A)TRUTH
(A)TRUTH is celebrating our 11th year anniversary among friends and the punk community that has become family! For this special occasion we are honored to be able to share the stage with Huasipungo, Lakras, Dog Breath, and Perdixion.
Bands:
Atruth – https://atruth.bandcamp.com
Huasipungo – https://huasipungo.bandcamp.com
Lakras – https://lakras1.bandcamp.com
Dog Shepherd – https://dogshepherd.bandcamp.com
Perdixion – facebook.com/perdixionpunk/
We are also proud to share and offer a place for organizations to engage with the punk community and table for this event, food will also be available and provided with a donation by Club A Kitchen!
Tabling by:
– NYC Anarchist Black Cross
– Club A Kitchen
– NYC Antifa
– May Day Space
– Cosmopolitan Antifascists
and more…
Saturday April 13th /// Sabado Abril 13 – Doors 8pm
$10 ( $7 – with canned food or personal hygiene product donations that will go to club A kitchen )
At Rubulad rsvp to rubulad@outlook.com for address or ask a punk. / Bushwick L to Jefferson
ALL AGES – NO BYOB
FB event: https://www.facebook.com/events/291513208184727/
HAZLO TU MISMO – FUCK LA MIGRA!
LOVE MUSIC /// HATE FASCISM !