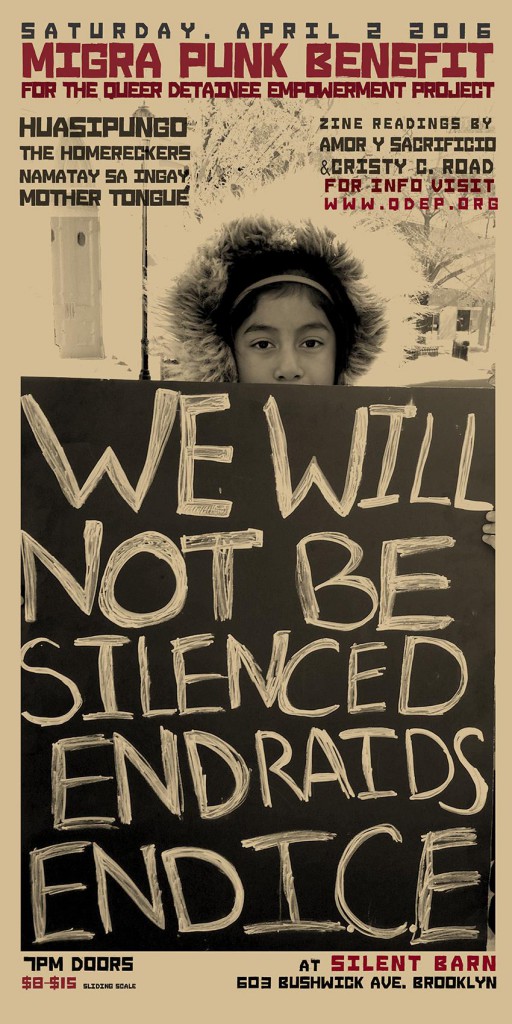 Benefit for the Queer Detainee Empowerment Project and to support detained immigrants and their families fighting deportation.
Este es un concierto en beneficio al Queer Detainee Empowerment Project  y en apoyo a lxs inmigrantes detenidos en los 'centros de detencion' y sus familias.
Check out QDEP and the work they are doing: http://www.qdep.org/
BANDS:
– Huasipungo [https://www.jamendo.com/album/42705/nucanchic-huasipungo]
– Namatay Sa Ingay [https://namataysaingay.bandcamp.com/]
– Homewreckers [https://thehomewreckers.bandcamp.com/]
– Mother tongue [http://youtu.be/HmtizXYdPr8]
ZINE READINGS BY:
– Cristy Road
– Amor Y Sacrificio
ALL AGES
Doors open at 7pm. Show starts at 8 p.m.
Sliding scale $8-15
The Silent Barn – 603 Bushwick Ave, Brooklyn, New York 11206
EVENT PAGE: https://www.facebook.com/events/1140507709316916/
Please share this event! Thank you!
NO HUMAN IS ILEGAL!
Por favor pasen la voz con sus amigxs y camaradas! Gracias!
NINGUN SER HUMANO ES ILEGAL!